Agility is the Life for Me
Agility is great fun. I love running with Mom (and sometimes Daddy Hale).
My most recent accomplishment (agility title wise, that is) was to complete both my UAGI and UAGII in a single weekend. I LOVE UKC Agility because i'm very accurate but not necessarily the fastest dog around so it is definitely in my favour when accuracy counts first and speed only gets considered if two dogs have the same number of points. I pulled this off January 10 & 11, 2004, with six straight qualifying runs, four first places and two seconds (2 firsts and 1 second in each class). Mom was sure happy that weekend. Too bad there aren't very many opportunities for UKC around here, and the next UKC Agility conflicted with the first ever Colorado PWDCA Sanctioned Water Trials... where i earned my first water title. Mom has promised me she will make a "water work" section for my web page, but so far it's all just promises. When it really happens i will definitely post a link here.
I completed my AXJ title on August 3, 2003. It was the last run of the trial and it was hot and muggy inside the National Western Arena, but Mom says I came through inspite of handler errors and hesitations. We celebrated with a can of sardines immediately after our run (I shared the sardines with Luxo... Mom didn't want any).
I completed my AD on January 12, 2003. I celebrated with a can of sardines. Then I completed my AX on February 15, 2003... Mom says "what a dog".
OAJ was completed on March 10, 2002. To see a picture of the happy dog and handler with the judge, click here.
To view a larger version of the same picture, click here (Mom says she's very proud of me... can you tell?)
My Own Equipment
I don't have much time just now, but i wanted to show you the really cool equipment that i have. Here's some pictures. When mom lets me use her computer again i'll try to tell you about building them. Hale put them together but mom had to paint them... boy was that a mess.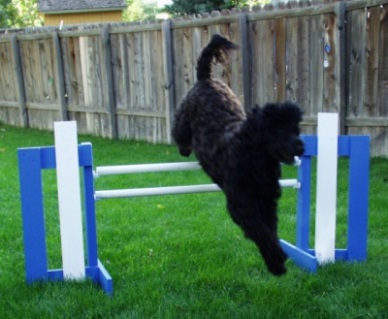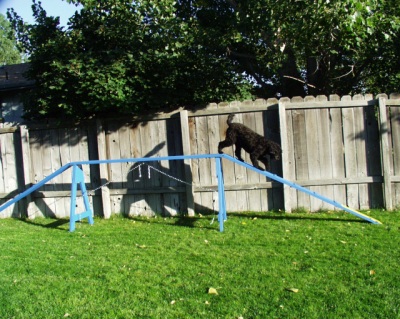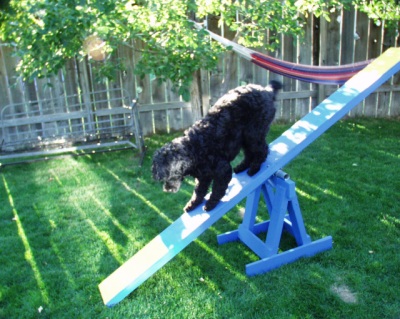 Action Shots
Here are some action shots from the USDAA trial in Pueblo, May 18 &19, 2002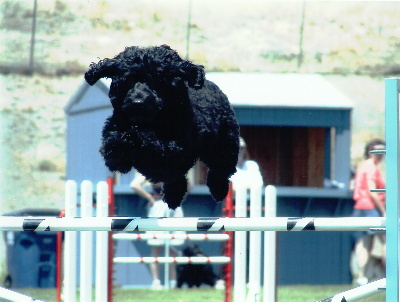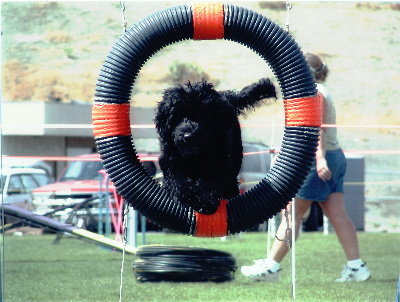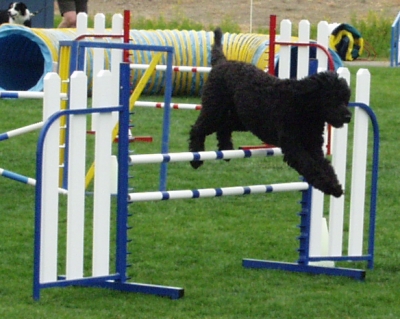 And, of course, here are a few with my mom... she's part of this team too (or at least she likes to think that she is).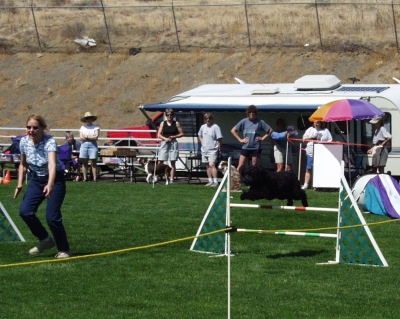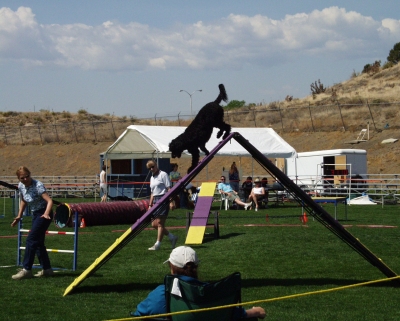 Running with Hale - the following shots are from the USDAA trial in Pueblo, May 2003. Mom hurt herself almost right away and i had to run for Hale. We qualified in Jumpers and Snookers. Our standard run was "one of the slowest ever seen", according to some, but it was the very first time i'd run with Hale for real.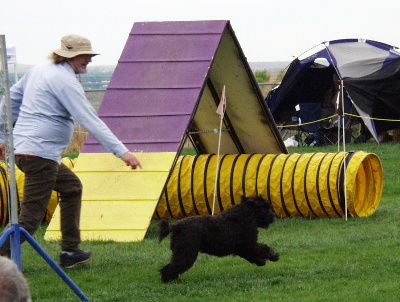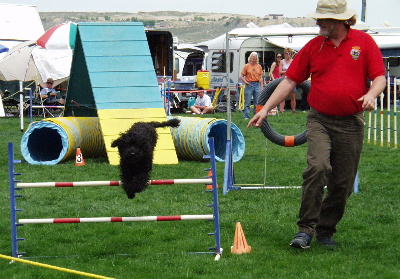 Mom's Favourites - Here are two that Mom really likes. The first is also from the Pueblo USDAA (above) when i went looking for Mom during the standard run. The second is from our club picnic in June 2003.